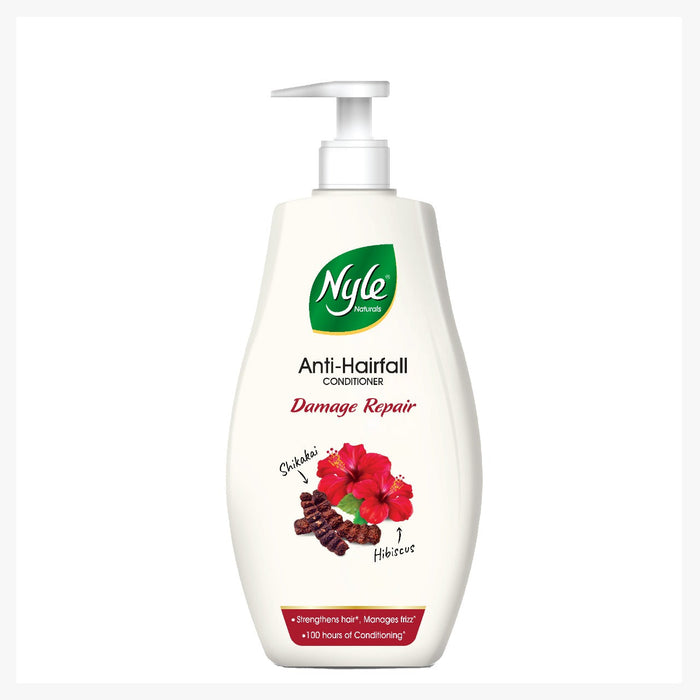 Nyle Damage Repair 100H Conditioning Anti Hairfall Conditioner, Manages Frizz -180ml
Original price
Rs. 200.00
-
Original price
Rs. 200.00
Original price
Rs. 200.00
Inclusive of all taxes
Every drop of Nyle Naturals Damage Repair conditioner provides 100 hours of conditioning & contains the goodness of natural extracts of shikakai, Amla, Hibiscus and Papaya. It repairs hair, strengthens it and makes it strong, long and smooth. Repairs surface level damage in chemically bleached hair by conditioning. Strengthens hair by reducing hair breakage. Shikakai boosts hair growth and prevents dreadful split ends. Hibiscus makes the hair smooth and shiny and also strengthens the roots. Based on lab results under test conditions.
PROVIDES 100 HOURS OF CONDITIONING: Nyle Naturals Conditioner is deeply nourishing for your hair. Its scientifically developed formula provides 100 hours of conditioning, fights dryness and helps manage frizzy hair giving your hair a smoothened look.
DETANGLES HAIR & CONTROLS FRIZZ: Nyle conditioners nourish and detangles hair, making them so smooth that the comb slides right through.
INGREDIENTS :- With the goodness of natural extracts of Shikakai and Hibiscus which provides damage protection and makes them strong, long and smooth.
SUITABLE FOR DAILY USE: It has No Parabens,No Paraffins, No Sulphates, No Phthalate and is dermatologically tested making it suitable for daily use.
FOR BEST RESULTS USE EVERYTIME AFTER SHAMPOO: Shampoo cleans the scalp and repairs hair while conditioner deeply nourishes hair. Use Nyle conditioner everytime after washing it with Nyle Naturals Damage Repair shampoo for detangled, smooth, frizz-protected hair that breaks less while combing.
Ingredients- Shikakai and Hibiscus