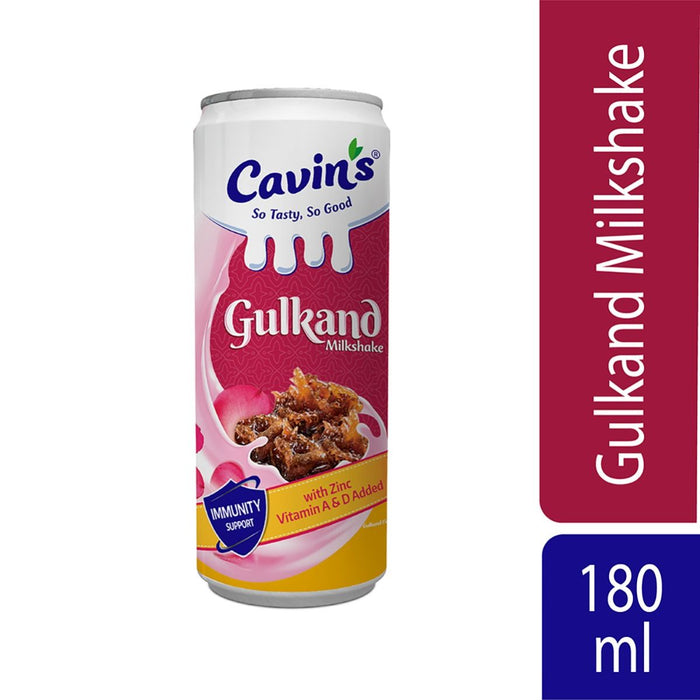 Cavins Gulkand Milkshake, 180 ml
Original price
Rs. 60.00
-
Original price
Rs. 60.00
Inclusive of all taxes
About the Product Cavin's presents a rich and indulgent Gulkand flavour milkshake that is made keeping in mind the traditional Indian palate. This mithai shake will satisfy your sweet cravings anytime, anywhere. It is now fortified with Zinc for immune support and is a good source of Calcium, Vitamin A, and Vitamin D for strong bones and teeth. Celebrate every occasion with your loved ones in a healthy way. Features Cavin's presents a rich and indulgent Gulkhand flavour milkshake that is made keeping in mind the traditional Indian palate. This is a healthy mid-meal snack for your children with Calcium, Vitamin A and, D and no added water. Fortified with Zinc for immunity support & Rich source of Calcium to support healthy bones. A thick and creamy milkshake satisfies your sweet cravings anywhere and everywhere. Gives your child the instant energy required in their growing years. Every sip will delight your taste bud.
Ingredients Standardised Milk, Sugar, Milk Solids, Gulkand, Extract (2%), Rose Syrup (1.4%), Acidity Regulator (Ins 330), Colour (Ins 122), Sequestrsant Ins 339, Emulsifier (Ins 471) & Stabilizer (Ins 407), Mineral & Vitamin Premix (Zinc, Vitamin A & D). Contains Permitted Synthetic Food Colour (Ins 127, Ins 122) & Added Flavour (Nature Identical & Artificial (Rose, Gulkand & Condensed Milk) Flavouring Substances).
Benefits Building muscles: Milk has proteins including healthy whey protein that aids in building muscles and helps you stay strong and fight fit. Stronger bones and teeth: Milk contains phosphorus and vitamin D that helps strengthen bones and teeth. Energy for vigour & vitality: Milk provides energy to keep you going throughout the day. Lactose in milk gives you a prolonged energy supply. Empowering the body & mind: Milk contains many B vitamins that help build immunity and empower the mind. Glowing skin: Milk has fat and vitamin E that help nourish your skin and improve your complexion.