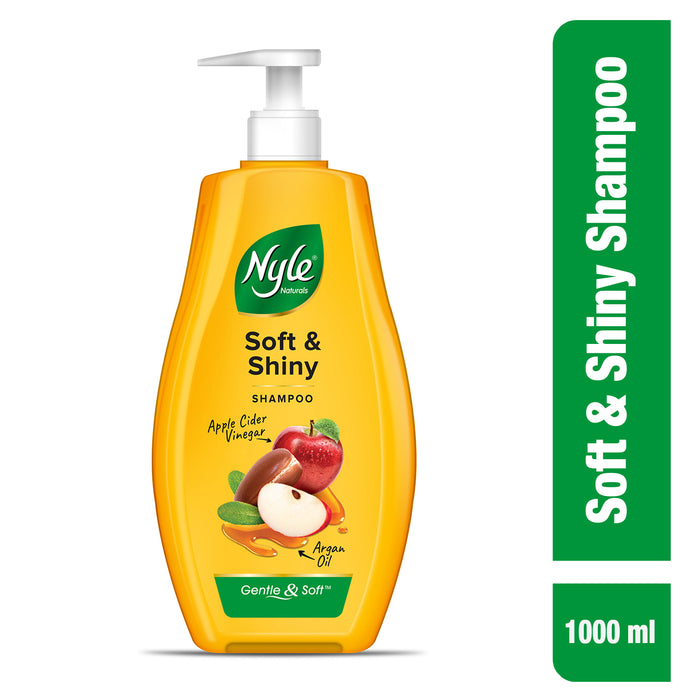 Nyle Naturals Soft & Shiny Shampoo | For Soft Hair | With Apple Cider Vinegar and Argan Oil |Gentle & Soft Shampoo, pH Balanced and Paraben Free, For Men and Women, 1L
Original price
Rs. 650.00
-
Original price
Rs. 650.00
Original price
Rs. 650.00
Inclusive of all taxes
Every drop of Nyle Naturals Anti hairfall shampoo is Paraben free & contains goodness of natural extracts of Almonds, Green gram sprouts and a blend of natural herbs. Almonds help make the hair strong, shiny, soft to touch and shiny. It strengthens your hair and protects from hairfall due to breakage. Sprouts contain vitamin C, which is considered to promote hair growth. It helps you enjoy strong & healthy hair#. #Strengthens hair by reducing hair breakage. Based on lab results under test conditions.
REDUCES HAIR FALL :- Reinforces hair strength & prevents hair fall due to breakage. Provides advanced nourishment and protection.
INGREDIENTS :-With the goodness of natural extracts of Apple Cider Vinegar And Argan Oil, helping you enjoy Soft and Shiny hair.
SAFE FOR CHEMICALLY TREATED HAIR :- Made from all natural ingredients, the Shampoo does not do any harm & is suitable for all hair types. It is safe for colored or chemically treated hair.
USAGE :- Gentle enough for everyday use. Suitable For All Hair Types
Nyle is a gentle and Natural shampoo curated with the goodness of natural ingredients like apple cider vinegar and argan oil. It cleanses the scalp gently keeping your hair soft and shiny all day long.
Ingredients- Apple Cider Vinegar And Argan Oil